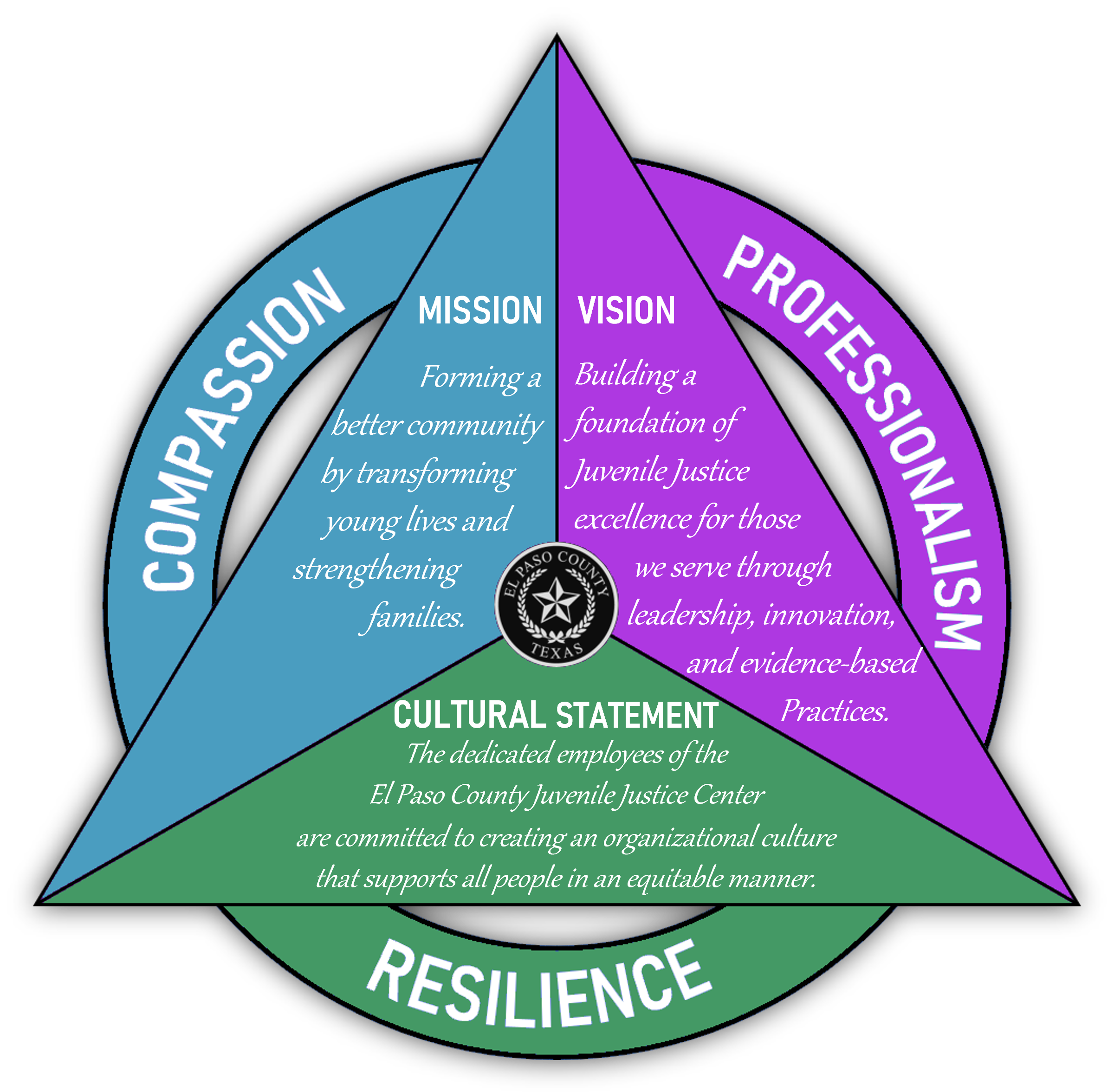 News
Our department's latest updates
Albert Mendez III
Deputy Chief of Finance and Support
Albert Mendez III
Deputy Chief of Finance and Support
Albert Mendez III
Deputy Chief of Finance and Support
Rosie Medina
Chief Juvenile Probation Officer
Rosie Medina
Chief Juvenile Probation Officer
Rosie Medina
Chief Juvenile Probation Officer
Marc Marquez
Deputy Chief of Juvenile Services
Marc Marquez
Deputy Chief of Juvenile Services
Marc Marquez
Deputy Chief of Juvenile Services
Online Payments
You can now make your payments online. Your profile number is required in order to process your payment correctly. If you don't know your profile number, please contact the Probation Officer assigned to your case.
Make a Payment
Safety Guidelines
El Paso County Juvenile Probation Department is dedicated to the safety of our customers. If you need to come to the department, please take a moment to watch this video and get familiar with our safety guidelines. We thank you for cooperating and helping us to remain safe and clean.
Play Video
Our Services and Programs
What we do for our youth
Finance and Operations
Accounting
To verify the accuracy and legitimacy of claims against the Department and oversee all financial operations of the Juvenile Probation Department.
Information Systems And Records
The Information Systems and Records unit is committed to provide reliable and efficient technology tools, and access to juvenile records in order to assist Juvenile Justice Professionals in providing high quality services to juveniles and their families.
Maintenance
The Maintenance Unit goal is to provide a safe environment to our employees and clients, through an effective and efficient maintenance program. Maintenance is responsible for the overall physical appearance, security systems, the mechanical systems, cleanliness and landscape of the 121,699 sq. ft. facility that is situated on 9 acres of land. The unit is also responsible for maintaining the Department's automotive fleet.
Training
To provide innovative and creative training opportunities in order to enhance departmental knowledge while always meeting the Department's needs.
Juvenile Facilities
Challenge Academy
To protect the El Paso community and surrounding areas by providing a safe, secure and humane military-style correctional facility and aftercare program that aims to inhibit criminal activity and recidivism through the implementation of evidence-based programming, substance abuse treatment and life skills for the overall growth and development of our cadets and their families.
Culinary Services
The Juvenile Justice Center kitchen provides complete food services to the youth in Detention and in the Challenge Academy Program, which includes three nutritional meals and a morning and afternoon snack.
Detention
The Juvenile Detention Center is a short term pre-adjudication facility that provides a safe, caring and secure environment for male and female youth between the ages of 10-17 who are court-ordered detained pending release or out of home placement.
Juvenile Services
Clinical Services
The mission of the Clinical Unit is to create a safe and compassionate environment in which clinicians' aid in empowering youth and families to grow by assisting them in recognizing and utilizing their strengths to overcome mental and /or behavioral health issues as a means to facilitate personal growth and development. Clinical team members work in a variety of settings to address a myriad of mental/behavioral health issues.
Intake Services
Processes incoming referrals for Class B misdemeanors or above from all law enforcement agencies within El Paso County and makes the initial recommendation on case disposition.
Probation Services
The mission of the Probation Services Unit is to ensure a culture of Juvenile Justice Professionalism by pursuing excellence with the courts, community, case management and compliance.
Special Programs
These programs have been developed by the Department in an attempt to treat moderate to high risk juvenile offenders within the community and avoid commitment to the state Texas Juvenile Justice Department.